On June 20th, we welcomed 5 boys and 7 girls via c-section. That's the safest route for a large litter of 12 puppies. After some recovery from surgery, Taffy is becoming a great mom. We'll be posting updated photos and videos as they progress. Not all puppies are spoken for. If interested, send a note or fill out an inquiry form. The anticipated 'go-home' date is after August 15th. 
CH Greensleeves Laffy Taffy at Tympani Wires (Taffy) is out of CH AFC Cascade Tumalo Tonic and CH Scotian Greensleeves Arctic Lady Love SH CDX UT (AnnieB)
GCH CH Scotian Little Drummer Boy is out of GCHS CH Weidenhugel Luca V Sept SH and CH Scotian Red Sparks Fly (Taylor)
Currently, only these three puppies are left and available.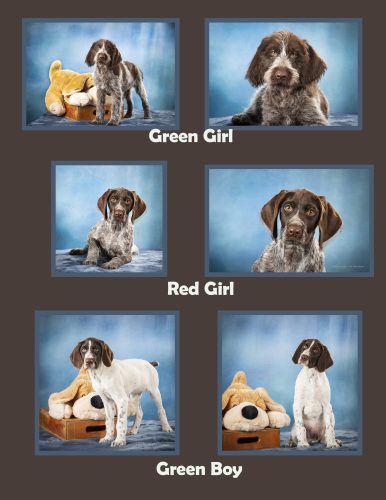 Four puppies came to Anchorage, Alaska, in late August to find their new homes.
We have some very exciting news at the Greensleeves GWP kennel. We are collaborating with Tympani Wires, the owners of one of our girls from the 'B'-litter, Taffy. Taffy easily earned her AKC breed champion title under two years of age. She is a constant companion to her young human, Harper.
GCH Ch Scotian Little Drummer Boy (Drummer) and Ch Greensleeves Laffy Taffy at Tympani Wires (Taffy).
This litter is bred by Krista Rutmanis, Sylvia J Rutmanis, Harper Rutmanis, and myself. We received pregnancy confirmation via ultrasound on May 19th. Whelping is estimated around June 20-24. The location is Colorado.