Scotian Greensleeves Arctic Lady Love, SH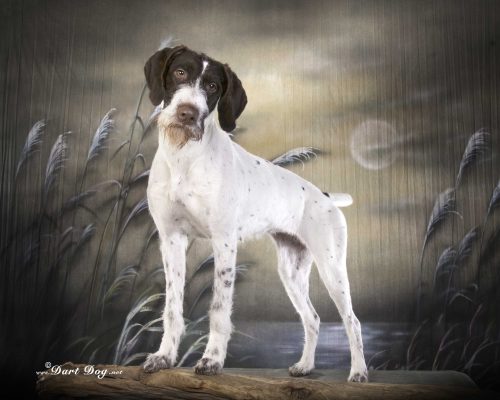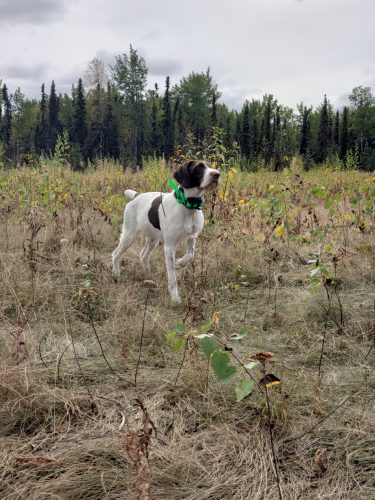 Sire: GCHS CH Weidenhugle Luca V Sep JH
Dam: CH Scotian Red Sparks Fly
Whelped: December 3rd 2016
Eye cert & hips info
Call Name: AnnieB
Achievements:
Hips good, Elbow normal, Thyroid normal Eyes normal
Obtained her AKC Junior Hunter title and NAVHDA NA prize 1, 112 pts at 7-8 months old.
Obtained her AKC Senior Hunter title and almost priced at NAVHDA UPT at 1.5 years (heeling needed more work 😊. Great scores in all other categories.
AKC group placing; only needs one more major for her AKC championship.
Currently has 11 points incl. one major towards AKC championship.
OFA health record:
https://www.ofa.org/advanced-search?quicksearch=scotian%20greensleeves
Pedigree of  AnnieB

Parents
GrandParents
GreatGrandParents
SIRE: CH GCH Weidenhugle Luca V Sep, JH
SR69059901Liver Ticked
DC Nyramskov's H. Hector

SN91089302

Liver Ticked

Porsemosens Sepp

DKK 119954/95 (Denmark)

Nyramskov's D. Alma

DKK10288/99 (Denmark)

CH Scotian Xtra Time

Liver & White Ticked

SR09070903

CH Scotian Private Reserve MH

SR40954401

Liver Roan Ticked

CH Weidenhugle Xtra Special V Bama

SN67183101

Liver Roan

DAM: CH Scotian Red Sparks Fly
SR80409601Liver & White, Spotted
CH Backwoods DK Fyrst

Liver Roan Ticked

SR52666301

Katholts C. Sixtus

DKK 08248/2004 (Denmark)

Backwoods Dallas Alice

SR00769303

Liver Roan

CH Scotian Where There's Smoke

SR50180302

Liver & White, Spotted

DC  AFC NFC  Tumalo Joe

SR7123902

Liver & White

CH Scotian Jetset's Dreamcatcher

SR83717611

Liver & White Ticked